That's a title a few of us would welcome but it belongs to Daisy Bacon, the editor of Love Story Magazine. Laurie Powers (friend and colleague) has written a book about Daisy Bacon Queen of the Pulps: The Reign of Daisy Bacon and Love Story Magazine. Love Story Magazine was one of the magazines from the Street and Smith pulp publishing empire. This is a book for pulp fans, readers of biography and lovers of a good mystery and for that extra something—a hidden love story. Well researched and clearly written, it's a great read for just about anyone.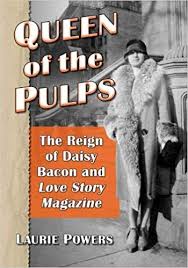 For those who aren't familiar with the pulp genre, pulp magazines consisted of short stories, serials and novels with advertising mostly on the inside covers because they were printed on cheap pulpwood paper. The first pulp magazine is considered to be The Argosy beginning in the late 1890s. Pulp magazines focused on stories about westerns, railroads, love, detectives, adventure and many others and they were one of the most widespread mediums of popular culture continuing into the 1940's. Their popularity was partially due to their being inexpensive—often costing a dime—and easily found just about everywhere there was a news/magazine rack.
Laurie comes to this work with a deep understanding and love of the genre. Her grandfather, Paul Powers wrote mainly for the western pulps for over 20 years turning out over 400 stories and she has been researching and writing about the pulps for some time now. Obviously, we share a natural affinity for searching for our grandfathers' stories.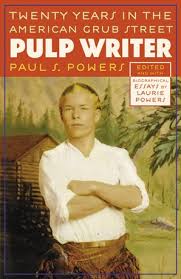 I've been wanting a clear and concise explanation of the pulps and although this is not a history of the pulps Queen of the Pulps paints a vivid portrait of the Street and Smith publishing company. By focusing on Street and Smith and Love Story Magazine we gain an understanding of the industry and the pulp genre. One of my favorite parts of the book is the description of the offices and the daily routines. If you love writing as I do, this is an inside look at the workings of a magazine from an editor's point of view.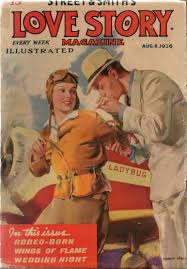 Daisy Bacon was the editor of Love Story Magazine beginning in 1928 and continuing until 1947. She was 28 years old when she took the helm. That's a phenomenal accomplishment especially for the time period. Laurie explains succinctly why we should care about this woman—"…Daisy Sarah Bacon, was an editor whose magazine, Love Story Magazine, probably touched more women in her twenty-year career than any other woman of her generation."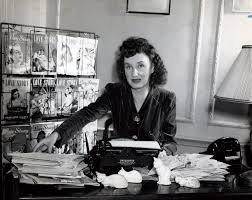 Queen of Pulps is a detailed account of why Love Story Magazine was so successful due to Bacon's understanding of the genre and the decisions she made throughout her career. Many of the writers are discussed including examples of their work along with examples of the luscious and enticing covers. Pulp research, pulp writing and pulp collecting has been a male-dominated field. No judgment as there is a solid group of terrific guys who are generous and welcoming and a long list of male writers who deserve wider recognition including, of course, my grandfather Major Malcolm Wheeler-Nicholson. However, as a woman who loves this genre I particularly appreciated the thread throughout the book about the challenges Bacon faced as a woman and the general attitudes towards women working in the genre. It's also telling to learn what many of the publishers assumed about women readers. Queen of the Pulps is a groundbreaking work in that regard.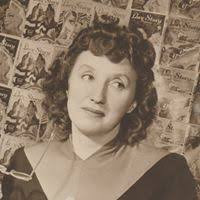 Finally, and what makes the book such a good read is Daisy's own love story, the mysteries behind it and Laurie's detective work and discoveries. I'm not going to give anything away so you can discover this wonderful book for yourself. How lucky we are that Laurie Powers has written Queen of the Pulps. In the end it is a love letter to Daisy Bacon that we can all share.