New Fun #1 appeared on newsstands January 11, 1935. No one at the time had any notion that it was the Big Bang of the comics industry. New Fun #1 was the alchemical transformation of all the one-off original comics that came before, the comic book reprints from newspaper comics then on the stands, the pulp adventure stories that provided content and the European and Asian comics that provided inspiration. All these elements swirled into a coalescence of form that has endured for 85 years and counting. One man had an inkling and he was the catalyst for this moment in history. Major Malcolm Wheeler-Nicholson, the publisher of National Allied Publications, was in a unique position to light the fuse to bring on the bang. He had experience in the newspaper syndicate business, had written successfully for adventure pulps, had traveled extensively and was aware of European and Asian comics and with a military background knew how to rally the troops and face the daunting challenges of the Great Depression. "The Major" had a big idea of a comics magazine with original comics rather than reprints from newspapers and he put it out into the world in the midst of the Great Depression on January 11, 1935—85 years ago.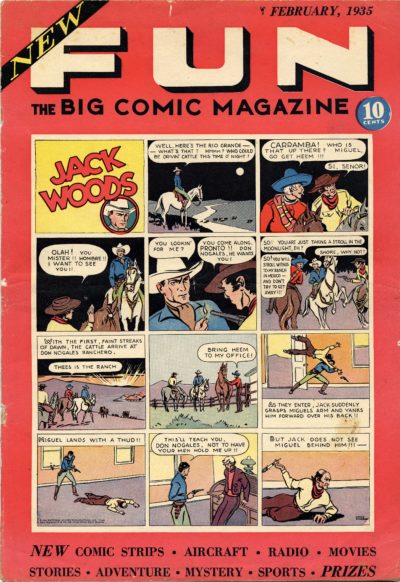 Behind every creative manifestation is an origin story. This is the epic tale of how New Fun #1 became a DC Famous First Edition. Most people know me as the Major's granddaughter with the raison d'etre of restoring Major Malcolm Wheeler-Nicholson's rightful place in comics history. For 22 years I have worked towards that goal and the decision to reprint New Fun appeared that DC was finally openly acknowledging the Major's contributions and acknowledging their history prior to Superman. Many people including people in the industry do not know that history. For over 10 years I've been publicly battling 82 years of entrenched comics mythology perpetuated by the DC marketing department, stories told by fledgling artists in the field some 50 and 60 years later and repeated by almost every single person who writes about the Major. And since I'm a woman in a niche area of comics history, like Ginger Rogers, I've been attempting this while dancing backwards and in high heels.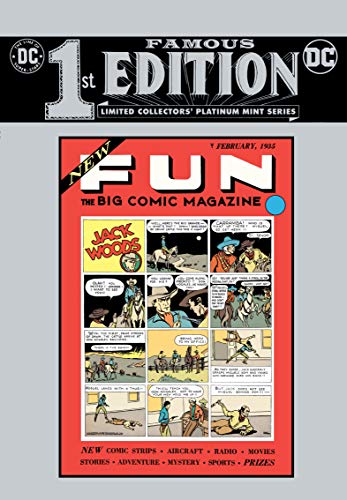 One person in a review praising my recent book DC Comics Before Superman admitted that he initially thought that our family had an audacity showing up at the 2008 San Diego Comic Con when the Major was inducted into the Eisner Hall of Fame. I suppose because he had bought into the negative stories about the Major. After all these years there are still people who continue to adhere to that storyline so for everyone who wonders where I got the audacity to pursue this history and write about it here's how I earned it. I have the skills to pursue my passion beginning with 20 years in theatre/video/film as an actor/writer/director/producer and founder of a couple of theatre companies with an MA in Classical Greek Mythology followed by over 30 years in publishing as an editor/writer and co-founder of an audio publishing company thus I have a professional knowledge of pop culture and know how to research and write.
I have the audacity because I've done my homework. Sometime in 1998 I began focused research into the Major's life and work. My first book proposal is dated 1999 and my initial meetings with agents and lawyers occurred in early 2000 so it's been about 22 years I've been on this quest and I'm still at it. The Major's life is huge. He lived the lives of at least 6 people in one lifetime.
My research files require adjectives that are in the colossal range—hundreds of computer files in addition to all the numerous links to information online, paper files taking up 4 file drawers plus 18 binders of notes and information. There are files relating to my family—files of family history, of MWN's mother, my great grandmother—the suffragette, files of audio recordings and transcribed interviews plus correspondence with my father Malcolm, Jr., my aunts and uncle and Swedish cousins and files of MWN's marriage to my grandmother and her aristocratic Swedish background. There are files of his military service, legal files from his court martial, his foray into newspaper syndication, his fiction writing, his comics magazines including 4 thick legal sized files of documents relating to the forced bankruptcy, his non-fiction writing and not to be outdone—his inventions and patents. And then there are the photos–computer files, cds and boxes of original photographs.
There are files and photos of my reconnaissance trips to Boston and Taunton, MA, New York City and Manlius, NY, Greeneville and surrounding towns in Tennessee, the Library of Congress and National Archives in Washington, DC and College Park, MD, Fort Bliss, TX, San Francisco, Portland, OR, Washington State and yes–Cuba, London, Paris and Vic sur Aisne. And finally, there are the creative works–several long boxes of about 130 pulp and non-fiction magazines that I own and have read (there are more out there), computer files of the Major's comics and–lucky me–some paper copies, as well as several copies of each of his hardback books plus shelves of books relating to pulps and comics history. It's a hell of a lot for one man's life and a hell of a lot to research, comprehend and place into the larger events of the day and the history of comics.
I've had a lot of support from colleagues who have passed on research and information and I've been happy to share my work with Larry Tye (Superman), Brad Ricca (Super Boys), Tom De Haven (Superman, Our Hero), Roy Thomas (Alter Ego #84), Michael Uslan, Tom Andrae and Bob Hughes among others. I have shamelessly cribbed from Alex Jay and David Saunders who have been beyond generous and I had the temerity to purloin the title of one of Will Murray's excellent articles. He was his usual grand self. I've also made some errors and a few whopping—oops—mea culpa blunders. So no pedestal for me but I'm hanging on to my tiara.
Along the way I've written articles for magazines and academic journals, published a book of reprints of some of MWN's adventure stories—The Texas Siberia Trail, produced an audio version of one of the stories nominated for an O'Henry Short Story Award—"The Road Without Turning" and recently published DC Comics Before Superman. And since 2008 I have appeared at conventions participating on panels and giving talks at comic book shops as well as in the grand halls of universities.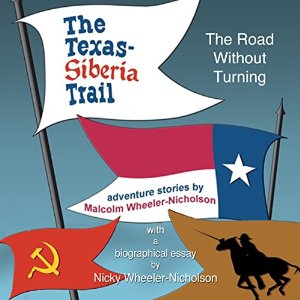 This is where Gerard Jones enters the story. In 2004 when his book Men of Tomorrow was published my Aunt Diane let him know in her inimitable fashion that his section on Major Malcolm Wheeler-Nicholson was completely erroneous. When he communicated with her, she sent him on to me. It only took my sending him a photograph of the Major for him to realize he had made the usual mistake of repeating the myth without doing any original research. Jones wanted to correct his mistake and suggested we collaborate on a book about the Major and we corresponded back and forth for a few years. Since he was a well-known author and the big plus–not a mere woman, I thought it might be better to collaborate with him rather than attempting it on my own. We began working in 2009.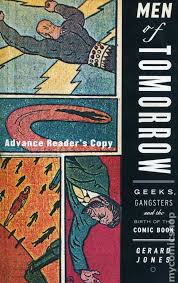 I was often frustrated at the amount of time the work was taking but I continued researching and doing everything I could think of to get the Major's story out there. After 8 years the only thing to show for our work was a 50-page proposal—thank goodness! In early 2017 Jones blew up his life in a spectacular and completely out of left field, I had no idea fashion. I thought everything I had been working towards—a full biography of the Major—on my own for 11 years and then as a co-writer with Jones for almost 9 years was destroyed in an instant. I couldn't wait any longer. I had to do something. I came up with the idea of doing a book of the Major's comics based on his pulps with a short version of his biography. It would prove to the boys club that even though I am a woman, I know my "stuff" and can write. And indeed, I won over Bud Plant, for one. David Armstrong, film producer and comics collector extraordinaire, collaborated with me in putting together a book of some of the Major's rarely seen comics and it was published by Hermes Press–DC Comics Before Superman. David curated the comics and I wrote the content. The book turned out beautifully with huge thanks to Dan Herman, the publisher, and it debuted in 2018 at San Diego Comic Con.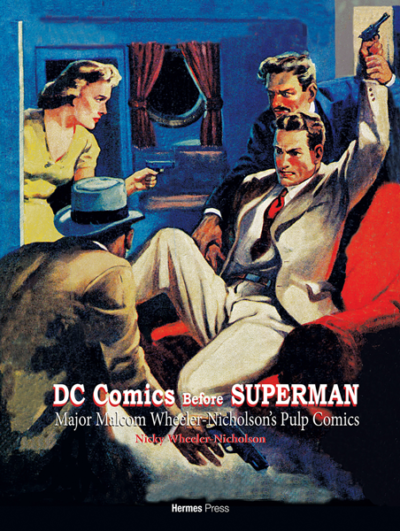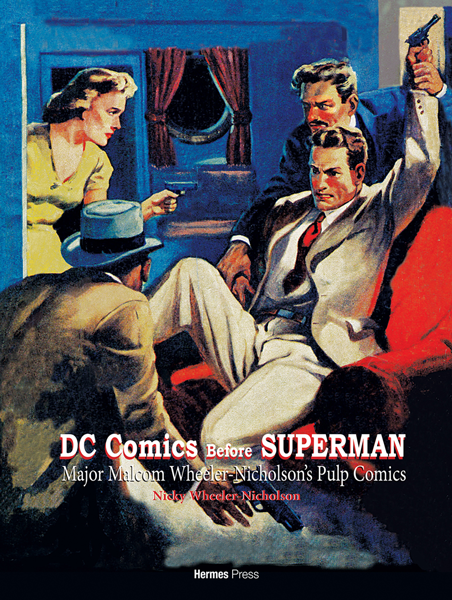 The DC Before Superman project gained a larger fan base for the Major of superior quality—collectors, historians, librarians, journalists and creators currently working in the industry. A number of super guys in the industry did podcasts and interviews and the Major's group on Facebook became an active and fun place to be.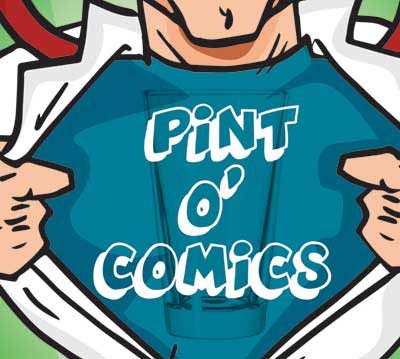 From the first communication with the corporate DC entity in 2004 I have made the attempt to keep lines of communication open—sometimes successfully and sometimes not depending on–I'm guessing here—the musical chairs on the top floor. I pushed for the Major to be included in the 75th Anniversary documentary and have been persistent in making my presence known. Most of the time our interactions appear to be congenial. The one positive thing that has come out of that effort is getting to know a number of people within the corporate body whom I genuinely like and who have been supportive.

Everything has been leading up to the moment the fates appear. One of the guys in the MWN group notified me that a rare copy of the Major's first comic New Fun #1 was for sale on a comic collector's site for $12,500. After checking it out I began one of my campaigns in order to persuade DC Comics to buy it for their archives. In a stunning plot twist they did! I couldn't believe it and was thrilled because it meant that not only was New Fun saved but it would be available for scholars.
In March of last year, I went to Burbank to the DC archives to see the "New Fun" magazine for myself. It was an emotional moment to be in the DC archives after all the ups and downs of the past years. I held the magazine in my hands and the sense of history emanated from it. With all that I know about the Major, I could feel the depth of my grandfather's vision and the spirit of the creative energy that went into that vision. The magazine, appearing out of the wild as one executive put it, seemed a good omen since the coming year—2020 would be the 85th anniversary of New Fun #1 and according to the way DC counts its years also the 85th anniversary of DC Comics. Coincidentally it would be the Major's 130th.
Soon after one of the MWN guys saw an ad on Amazon for a reprint of the New Fun #1 magazine. WB/DC had evidently decided to publish it and no one had the courtesy to communicate to me. I have no official connection to DC but with the circumstances of how the magazine came to be in their hands plus my knowledge of the Major and that period, you would think someone might have had a notion to let me know. After a number of people indicated on social media that I should be involved, I got a last-minute invitation to the party.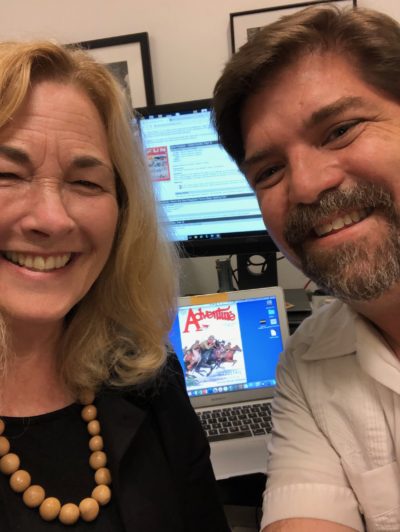 However it occurred, I didn't care. The door opened to DC, the project was happening and I was involved. It would be the first time in 82 years that a Wheeler-Nicholson had a byline in a DC publication. Benjamin LeClear, the DC archivist and I began working on the book. He deserves a medal of honor for coordinating between my passionate agenda and managing to keep his bosses happy. Roy Thomas wrote the introduction, which was perfect as I worked with him in 2008/2009 to put together Alter Ego's issue #84 on the Major. Jerry Bails', ("the father of comic fandom"), introduction intended for an earlier reprint that never happened was also included and I wrote a piece on the Major. I insisted that we have bios of all the contributors and that was left to me as well. Poring over the pages of the magazine again and again and researching every aspect of New Fun #1 including tracking down all the contributors was, dare I say it, more fun than I could ever have asked for.
The original intention was for the book to come out on January 11, 2020. Suddenly some of the guys notified me that they were getting delayed notices and I started to have that uh oh feeling. I was assured it was simply a production problem and then it was officially scheduled for April 14. As March rounded the corner the pandemic began to appear and then all hell broke loose. For a week or so, it wasn't clear exactly where the books were—China, on a boat, in a warehouse—no one knew. To make sure there was no lag in the excitement, DC and Diamond Distributors got into a cold or hot war depending on your point of view. All I could think was–oh great—with the main distributor sent to Siberia the question was now where are the books and who the hell has them? Then in early April like a trickle from a frozen stream, a few people who had ordered from Amazon began to receive them and then a few more were obtained from some of the local comic shops valiantly striving to stay afloat. In the meantime, I sent reams of missives to the DC marketing department and anyone else I could think of to attempt to get PR going for the book. I leave it to your astute knowledge of the way things go how successful that was. As Yogi Berra said, "It's like deja vu all over again."
Finally, on May 14th I received 2 copies of the book thanks to super hero Don Rhoden from the MWN group. The good news is that it is beautifully done. Benjamin LeClear, and everyone involved at DC did an outstanding job. And everyone who has seen it has raved about it. All the more reason why the book deserves a much stronger press. I thought we had finally reached that moment where the Major was going to get his well-deserved due and that the larger public might get an inkling of the full history of DC. I am a Pollyanna of the first order.
About a week ago I had to face the realization that this important anniversary in comics is not going to be acknowledged as it properly should. I have to admit to being about as disappointed as I've ever been about anything in my life. However, I am the Major's granddaughter so I will buck up and begin again. I have a loyal group of MWN fans and the year isn't over so I'm going to keep doing what I've been doing all along. I care about DC because it was my grandfather's vision and I will hope for the best. Now you know the behind the scenes saga of how this beautiful book arrived. Let's get down to the details in New Fun #1. Next up, some stories about the beginning of the magazine and the contributors. Stay tuned and please tell everyone all about it!