For Super Sleuth DC Fans: An ongoing look at 86 years of DC Comics, beginning with New Fun #1, January 11, 1935 through March 1938.
Contributor mini bios: Monroe Eisenberg, Jack A. Warren
Major Malcolm Wheeler-Nicholson's New Fun #4 arrived on newsstands 85 years ago April 12, 1935 with a cover date of May. The Major also had a pulp story published in May 1935, Thrilling Adventures, "Riders of the Wild Mesa." It was the second of only three pulp stories published during the Major's era in comics.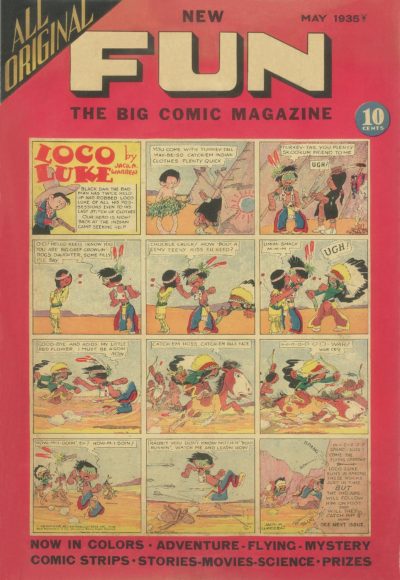 The cover of New Fun #4 was tabloid sized and followed the same format as New Fun #3 with "All Original" diagonally across the corner on a red background. The comic on the cover, "Loco Luke" was in color. A continuing story by Jack A. Warren aimed for children, Loco Luke, is aptly named because Luke seems rather hapless. He is constantly outsmarted by outlaw Black Dan and his Indian friend Turkey Feather has to help him out each time. On a scale of stereotypical Indian depiction, it's not too bad although Ugh creeps in there along with "me this and me that em" kind of language.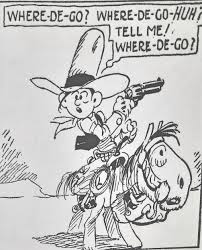 Jack A. Warren was one of several contributors to New Fun who had a pulp connection. His illustrations appeared in mostly western pulps like Ace-High Western, All Western, Popular Western and Thrilling Western. In his youth he worked for his father traveling to Wyoming to purchase horses. He met Tex O'Reilly and in 1929 they collaborated on a popular newspaper comic strip "Pecos Bill." "Loco Luke" appeared in the first four New Funs after which Warren drew the comic for the George Matthew Adams Newspaper Syndicate.

Some of the comics in New Fun #4 and 5 were in color and others in black and white. The interior black and white pages also contained the non-fiction articles, Fun Mail and activities like the crossword puzzle so it seems logical to fill out those pages with comics in black and white.
"Sandra of the Secret Service" continued to occupy page 1. In this issue she was drawn by Moe or Monroe Eisenberg making his appearance in the New Fun universe. Sandra was not as present in this episode as she was in most others. And there was a continuity problem. In the previous episode she was blonde and wearing pajamas. The same scene began this episode but she was now wearing a red dress and had dark hair. Oops! Eisenberger continued Sandra in New Fun #5.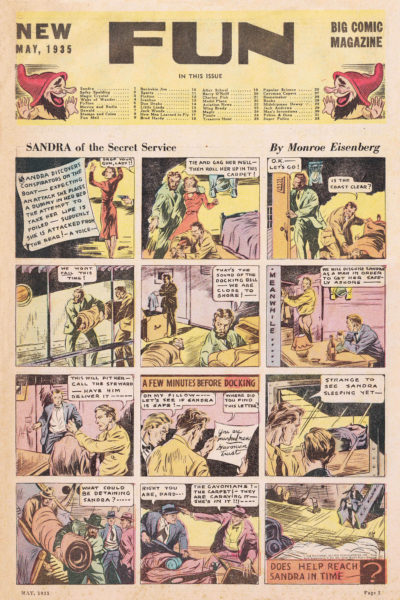 Eisenberg also took over "The Magic Crystal of History" that Adolphe Barreaux had illustrated for the first three New Funs. It was a continuing story of Bobby and Binks who wind up in ancient Egypt. He illustrated both features for New Fun #4 and 5 and drew Captain Spinacker in New Fun #5, a one strip comic about the misadventures of the Captain. Eisenberg who studied at the Pratt Institute in Brooklyn was also a pulp artist. His work appeared in Ace-High Magazine, Clues Detective Stories, Pioneer Western and Ten Story Western Magazine.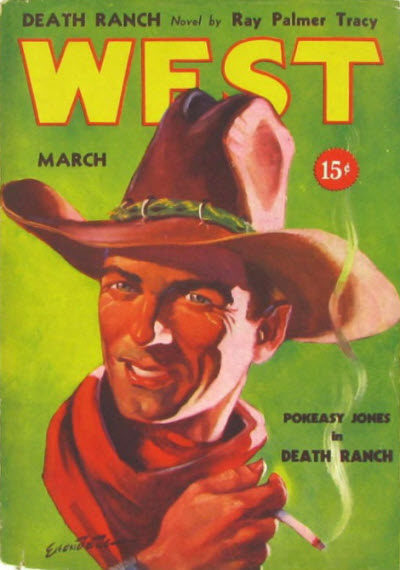 Vincent Sullivan was a regular contributor continuing his "Pincus" and "Spike Spalding" comics and adding "Charley Fish" in New Fun #4. Sullivan exhibited a strong hand in his artwork both in color and black and white giving his work a vivid comics style as opposed to some of the more illustrative styles of other artists. It's unfortunate that his depictions of Black characters are stereotypical for the times.
"Sonny" and "Little Linda" were regular comics contributed by Whitney Ellsworth with his artwork also having a strong comics style. His characters' facial expressions are as revealing of the story as much as the dialogue. So many of the comics in these magazines depict the difficult times. Little Linda is an orphan who is wandering the countryside. She befriends a young boy whose uncle has abandoned him along a deserted road and plans to steal the young boy's fortune. When Little Linda and her friend finally turn themselves in to the local police station in New Fun #5 it is revealed that the uncle has killed himself rather than be arrested. A rather grim story for children.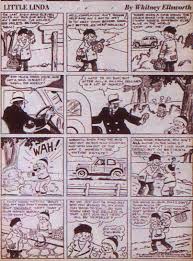 Clem Gretter (artist) and Ken Fitch (writer) continued their "Don Drake on the Planet Saro" and "2023 Super Police." The artwork in each is quite nice but the stories are pretty ridiculous. It's almost deliberately so especially in 2023 Super Police which reads like a spoof of Sci-Fi stories and given Fitch's superior writing skills it's quite possible there was an element of not taking it seriously.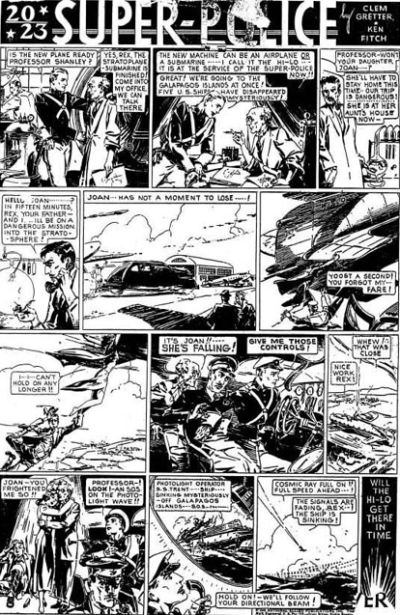 There are so many interesting details in these comics and it's such a shame they are not more widely known. In the Don Drake episode in New Fun #4 Don and Betty are attacked by the Amazons of the Winged Death riding what appear to be giant wasps and wearing quite fetching bathing suit type outfits. Amazons are showing up in the first DC Comics as well as "Super" Police.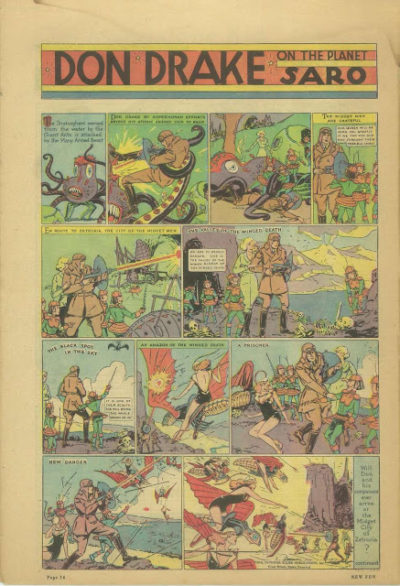 The "Jack Woods" story switched gears in New Fun #4. It supposedly started off from a movie script, The Rustlers of Red Gap, which super pulpster Ed Hulse informed me was actually The Rustlers of Red Dog as opposed to the film Ruggles of Red Gap, a comedy as explained to me by another friend. Are you as confused as I am? Pancho Villa shows up in this episode, one of the reasons I thought it was from an MWN pulp story.
New Fun #5 appeared on newsstands July 12, 1935, 3 months after New Fun #4. The cover background is a deep royal blue with "Jack Woods" by Brigham once again on the cover. "New" is now in the diagonal. "Vacation Issue" is above the FUN logo and is the explanation given for the delay. Under FUN is the "The Big Comic Magazine." It is tabloid size and the footer information is the same as New Fun #4.
The Jack Woods story heads off into the desert in New Fun #5. Instead of the continuity of Jack escaping Pancho Villa's men and going for help we have him casually riding through the desert and rescuing a damsel in distress who appears to be wearing one seriously slinky slip or silk night gown. Not a word about Pancho Villa or the problems Jack left at the ranch. The episode was again drawn by William Clarence Brigham, Jr. who took over the comic in New Fun #3 from Lyman Matthew Anderson.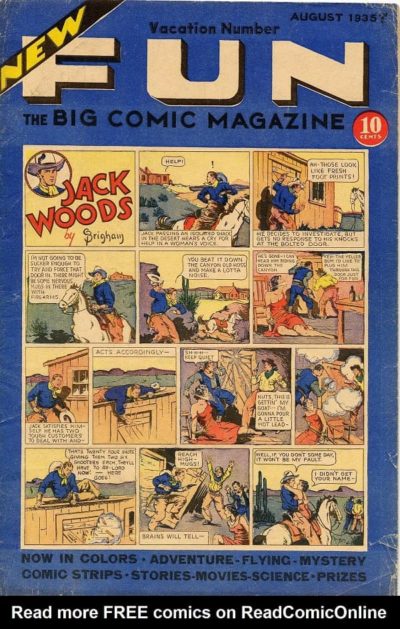 Raymond Perry appeared in New Fun #4 taking over the Ivanhoe comic from Charles Flanders, which he continued for some time. Todd Klein, comics historian and letterer extraordinaire has a new post on Raymond Perry on his blog and you can read it here. I have a special regard for Raymond Perry as some 20 odd years ago when I first began to seriously research the Major's life and work, the prevailing story line from DC Comics was that DC Comics began with a group of young guys fresh out of the lower Eastside. That is part of the story but not the full story and has unfortunately meant that not only were the Major's contributions ignored or downplayed but so many other contributors have been as well. Something about that PR line didn't seem quite right and I began to research every known contributor. Raymond Perry is the first artist I discovered who clearly did not fit that line of thinking. He was a very fine artist and from that beginning I discovered so many more of the first artists and writers.
Leo O'Mealia took over Barry O'Neill in New Fun #4 and began Bob Merritt in New Fun #5. He continued these comics throughout the Major's era. O'Mealia was one of the important artists who contributed to the beginning of DC Comics and I'll go into more detail about him in coming posts.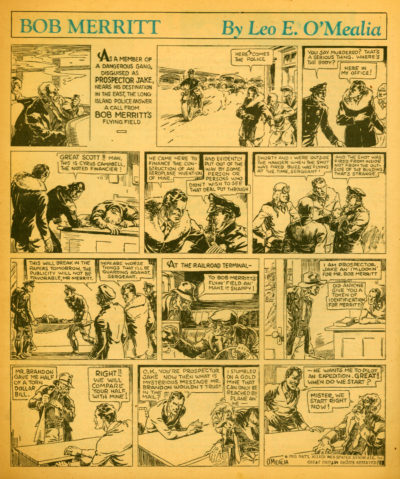 One of the ongoing mysteries is who drew Oswald the Rabbit? In New Fun #1 Oswald the Rabbit is noted as being by arrangement with Universal Pictures. And there is a long drawn out tale about the ultimate conclusion of DC's rights to Oswald, which I will forego for now. There is no signature and neither is there one on Oswald in New Fun #2 and New Fun #3. Al Stahl was an animator for Terrytoons and the Fleischer Studios during the 1930's and is credited with Oswald the Rabbit. He was also quoted as writing in to Fun Mail in New Fun #2 praising the magazine. I'm guessing there weren't enough letters to quote from initially or perhaps Jacquet wanted a particular kind of quote. In New Fun #4 Oswald the Rabbit is by John and "lindy" is the corner signature. This is definitely John Lindermayr. In New Fun #5 Oswald the Rabbit is again by John.
When I was researching bios for DC's reprint of New Fun #1 John Lindermayr was one of the more difficult people to find. He was married to Merna Gamble who illustrated "A Tale of Two Cities" for the Major's comics. His name on official records is spelled variously as Lindemayr, Lindermayer, Lindermayor so it wasn't easy to connect him with some records. Lindemayr worked for the Chesler and Iger studios. Eventually he and Merna Gamble moved to Los Angeles and from the few records I could find Lindemayr continued to work in animation.
There isn't much to go on to explain why there was a 3-month period between New Fun #4 and 5. Money was bound to be a part of the situation but there are few clues to what the money issues were. Lloyd Jacquet was no longer editor. MWN had taken on that role with Connie Naar as assistant editor. Since she was connected to the Brooklyn Eagle I'd guess she had already been working on the magazine perhaps contributing to the Young Homemaker page and possibly writing other unsigned articles as well. Jacquet may have simply needed to have a more secure position. He seemed to continue to hold the Major in high esteem when speaking of him years later.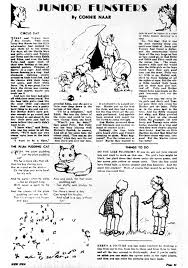 Going through the magazines carefully reading everything including the ads and then cross-referencing aspects of the magazines with other data offers new insights into this period of comic book history. The feature "Fun Mail" reveals one of the things that made New Fun unique and no doubt enabled it to last these 85 years–the intensely loyal DC fan base and their minute attention to all the details of the final product. The fan base was encouraged right at the very beginning with New Fun #1. On the opening page of New Fun #1 the Fun Gnome says "I, FUN, known as FUN the Fantastic—do hereby make appoint and commission each and every one of you as assistant editors of this reckless, rollicking and re-vivifying magazine.." The readers are encouraged to write in, and let the editors know what they like or don't like, to send in their ideas, drawings and jokes. There is a coupon on the very first page to encourage readers to write in their favorite "cartoons" and the first 100 are to receive 5 free movie passes.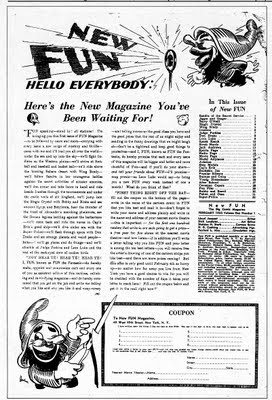 The Fun Mail page in New Fun #2 quotes from a number of readers giving their names and hometowns. There is a list of the comics voted as favorites and an application to create a Fun Club. There were obviously enough letters by New Fun #3 to provide excerpts plus several drawings sent in by readers. In New Fun #4 Fun Mail there is a real sense of the readers and their connection to the magazine. When I read Fun Mail in New Fun #5 I could distinctly see my grandfather's hand. A reader is quoted who had not only praise but also some criticism allowing for a complete process in the act of creating—what works and what doesn't. This is true to the Wheeler-Nicholson family traditions. Many times, when I spoke with my father, aunts and uncle about this period, they all said something similar, that the comics and magazines were discussed at the dinner table and that MWN was interested in what they thought. This was true not just of the comics but of the larger world and its culture. I came late to this family culture but it was still in operation in the second and third generations.
It must have been a heady moment for those readers to see their names and comments printed in the magazine. One young woman asked that the letters be printed in full in a "letters" section so that they could see one another's letters. This kind of inclusion fostered a sense of ownership and it was a core principal of my grandfather's character that was revealed time and again in everything he did beginning in the military and flowing through to all of his creative works. It is also a uniquely American characteristic—the idealistic flow of creativity in a democratic format. We don't often achieve it but we keep trying.
2020 is days away from ending but I'm doing my best to finish up the celebration of 85 Years of DC Comics with New Fun #6 and New Comics #1. Stay tuned.
Thanks to Alex Jay and David Saunders for their extensive research.