Happy 125th Birthday to my grandfather Major Malcolm Wheeler-Nicholson, soldier, writer of adventure stories and novels and founder of DC Comics. What does it mean to inherit the legacy of a man who lived a life of adventure and unbelievable creativity all the while maintaining his dignity and grace under fire at various points in his life? I did not grow up around the Major due to my parents' early divorce and I am one of 20 grandchildren from the five children of my grandfather Nick and grandmother Elsa. A few people in my family including an influential elder male question my right to tell his story because I'm a woman and I did not know him.
I think that's in my favor because I'm not your usual comic book family member who carries the legacy simply because of my name. Unlike other members of my family I've had to make a conscious and deliberate search for the facts of my grandfather's life. It's been an incredible 15-year journey and one that is not only a search for facts but also one that is deeply personal. Anyone and everyone can decide to pursue a biography. I am fortunate in that I have been privileged to have the access that most people would not have and an innate understanding of shared DNA. Through the search for the facts of his life and reading and studying MWN's amazing creative work I've come to have great respect and deep regard for all the things he accomplished in his life.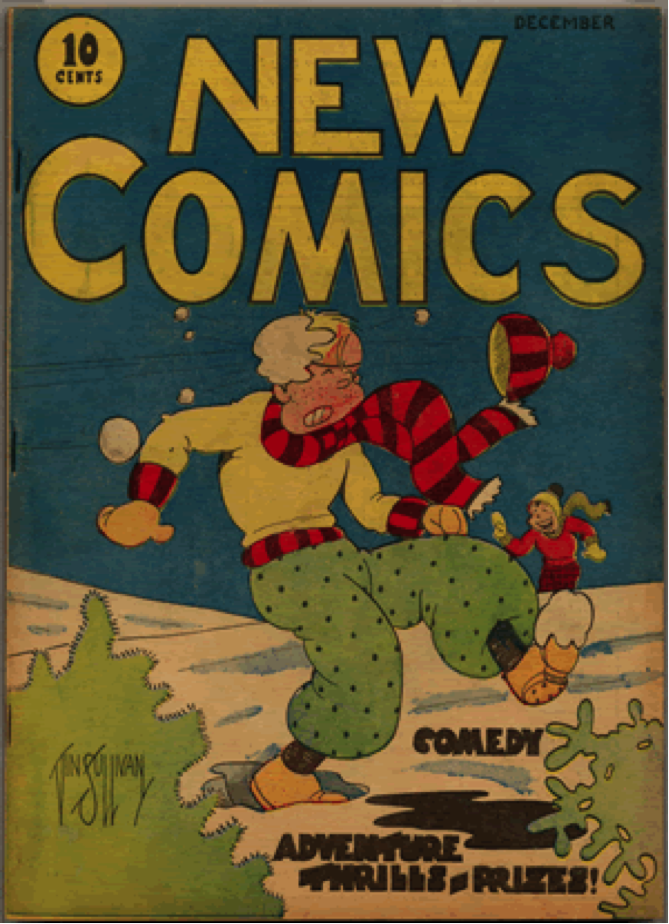 What I've come to understand is my legacy is the genetic predisposition to be creative especially as a writer and to enjoy the company of those who are on similar journeys. I've been writing stories and poems since the age of 8 and learned to edit in blue pencil under my mother's watchful eye when helping her after school in her office. Publishing, writing and editing are in my blood from both sides of my family and the gene pool in which I swim.
My grandfather was a courageous man on the battlefield, in his creative vision and his refusal to be laid low by the difficulties of life. One thing I have learned is that courage is not the absence of fear but rather the acknowledgement of fear and somehow moving forward in spite of it. I understand my grandfather's motivations and character through my own experience and the inherent sense of who I am as one of his grandchildren.
There are other comic book families that have been in the news recently having to do with legacy–the Kirby family, the Marston family and now just within this past week, the Liebowitz family. I understand the controversies in these cases from my own experience with family legacy and inheritance. The Kirby family has finally received the monetary rewards and more importantly the recognition of creative ability so richly deserved.
The Marston family has been at the center of a retelling of the story of that family's life and it's connection to the archetypal character of Wonder Woman. There is controversy surrounding the revelations of family and creator and not everyone in the Marston family is pleased with the rendition of their family and legacy.
The Liebowitz family is now embroiled in a fight for the monetary rewards of Jack Liebowitz's empire. That empire was not only built on the backs of the creators like Siegel and Shuster but the creative genius of my grandfather, Major Malcolm Wheeler-Nicholson. In light of the controversy of the Liebowitz legacy perhaps it is far better to have the legacy of creative genius, which was lost to history and now is being celebrated without the confusion of monetary gain.
As we gather to cheer the birth of this extraordinary man in celebratory spirit and the start of a new year it's a good time to acknowledge some of the good people who have joined in to support this grand journey—to my co-author Gerard Jones without whom I would not be able to cross the finish line, to my father who initiated the journey with the gifts of family archives, to Jason Brown who encouraged me on the journey, to Michael Uslan for his friendship and support, to John Locke for his prolific and outstanding research and his support in creating The Texas-Siberia Trail, to Danny Fingeroth for being a Knight in Shining Armor, to Howard Cruse, Shannon Wheeler and Drew Friedman for the luminous gifts of their creativity, to Tom DeHaven, Brad Ricca and Larry Tye for moving the story forward in such good ways, to Tom Andrae for his meticulous scholarship and generosity, to Jackie Estrada, J.C. Vaughn, Robert Overstreet, Dr. John Lent, Roy Thomas, John Morrow and Jim Amash for giving the Major a platform and to so many more of you who have been kind, helpful, thoughtful and encouraging. Let's all raise a glass of champagne. Here's to the biography Lost Hero and a very Happy 125th Birthday to Grandfather Nick!