For Super Sleuth DC Fans: An ongoing look at 86 years of DC Comics, beginning with New Fun #1, January 11, 1935 through March 1938.
Contributor mini bios: John Elby, Joe Archibald
Major Malcolm Wheeler-Nicholson's New Comics #2, the second edition of the Major's additional title was available on newsstands December 27, 1935 with a January 1936 cover two weeks after More Fun #7 was published. The cover is a deep yellow featuring R. G. (Robert) Leffingwell's characters Sagebrush and Cactus. "All Brand-New, No Reprints" is on the cover under the title and "80 Pages." "Adventure and Thrills for the Millions" is the optimistic tag at the bottom of the cover.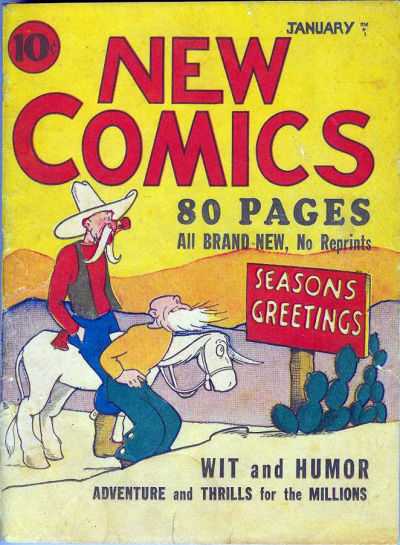 The masthead on the inside cover is the same as New Comics #1 and More Fun #7—Malcolm Wheeler-Nicholson, Editor and Publisher; William H. Cook, Managing Editor; Vincent A. Sullivan, Assistant Editor and John F. Mahon, Business Manager. Science-McCall continues distribution and World Color Printing continues as printer. There are a few slight changes in the wording in the indicia but the information remains the same. Every page has a copyright notice: 1935 National Allied Newspaper Syndicate, Inc. Great Britain Rights Reserved.
For advertising revenue, the ads are similar to New Comics #1. Pastime Novelty Company has a ¾ page ad on the inside cover for a Gilbert Set, a full-page ad for Meccano, both aimed for boys, a full-page ad for the Shirley Temple doll, and the inside back cover ad for Little Miss Muffet play sets aimed for girls. The illustration for the Gilbert Set ad is clearly by Dick Loederer. I'm curious about the connection between the magazine and Pastime Novelty especially as they are in the same building. The House of Magic has a small column ad and Remington typewriters have the back cover. The promotional ads include a ½ page ad for More Fun illustrated by Bill Cook and a 2 column ¾ page ad for a subscription for New Comics. Universal Toy & Novelty Mfg. Co. has a 2 column quarter page tie-in promotional ad. That doesn't seem to be much in the way of ad revenue although the full-page ads and back cover would be more expensive.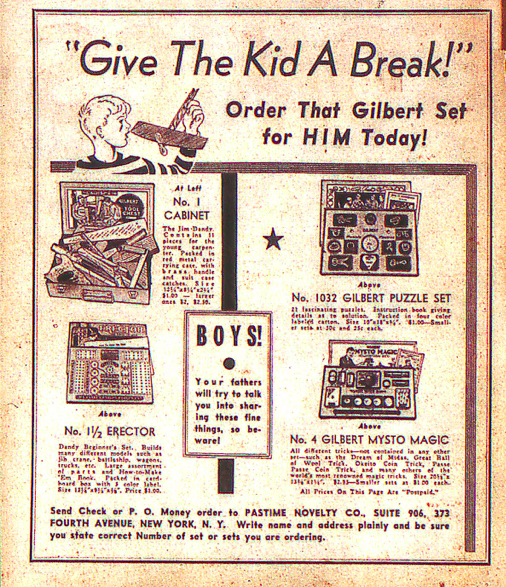 "The Editors" offer their thoughts on the first page in a similar format as New Comics #1. For this magazine an organ grinder with a monkey is holding balloons that go around the page and feature characters in the magazine in color. Bill Cook signed the illustration at the top so presumably he also did the illustration of the organ grinder although the artwork is finer than his other illustrations. I'm guessing this is supposed to be an immigrant, probably Italian. From today's view, that falls into stereotyping however it is mild compared to the disturbing racial stereotyping of Black people that frequently appears.
The Greetings from the Editors have a couple of things to note. "As so many of our boosters declare, a fellow does not have to tie himself into a knot with a magnifying glass to go through our magazine and enjoy every page. No siree! We have seen to that. No eyestrain as you follow the antics of our funny fellows or the adventures of our heroes in these pages." Was there a problem in printing of the imitations that were popping up? Without being able to see the originals, it's hard to know. And once again, it is emphasized that the material is brand new. "Let us send every issue of this 80-page, all original magazine to you. Remember NEW COMICS is not a re-print publication. Everything in it is brand new." Unless someone has written proof—not hearsay–can we please put to rest the references to the Major as doing new material because he couldn't get the rights to reprints? Original material was part of the plan from the beginning and corroborated by Lloyd Jacquet as I have noted many times in these posts.
There are 12 comics that are continuing stories from New Comics #1. Most have 2 pages unless otherwise noted. "Sir Loin of Beef" and "Sagebrush n Cactus" both in color and both by R. (Robert) G. Leffingwell are continuing stories. "Sir Loin of Beef" is as silly as the name suggests but it probably appealed to younger kids and it's a wholesome story promoting fair play. Leffingwell is a skilled artist in the cartoon style without the kind of detail that goes into the more illustrative artwork. His stories are clear and I particularly like the "Sagebrush n Cactus" story as well as the characters. Sagebrush and Cactus head into the desert on the trail of Knife Ambush. They see him riding off in the distance and find the body of Pickax Pete, a prospector. They discover a piece of paper that appears to be blank but by the next morning through the magic of disappearing ink it turns out to be a map and off they go. Although it seems corny, the characters are so well done and appealing that you want to follow their tale.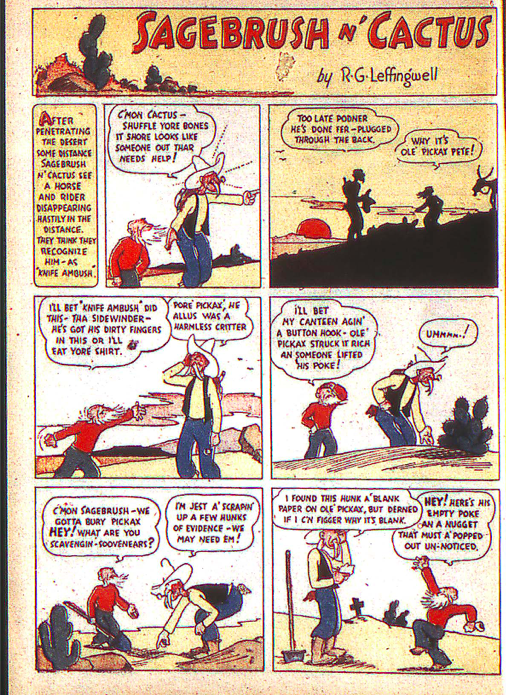 Sheldon Mayer returns with his two comics "J. Worthington Blimp, Esq." and "The Strange Adventures of Mr. Weed" both in color. Mayer's artwork is solid and he's particularly good with faces and expressions conveying the story and the emotions. Both stories are fun and more sophisticated than Leffingwell's. J. Worthington Blimp's new companion turns out to be quite a scoundrel charmingly depicted by Mayer. Once they are released from jail after skipping the bill at a restaurant, he steals an old stagecoach and two farm horses and they're on their way to California. Meanwhile Mr. Weed accompanying Mr. Mowcher lands in 1835 by way of the time machine. Young Fritz is a stowaway and a problem. Mr. Weed also has a problem because he is falling in love with a young lady from 1835. Mr. Mowcher and J. Worthington Blimp are similarly drawn as heavyset, older men. Mayer's sly manner of depicting his characters says as much as the dialogue. Really great start to a long career for Mayer.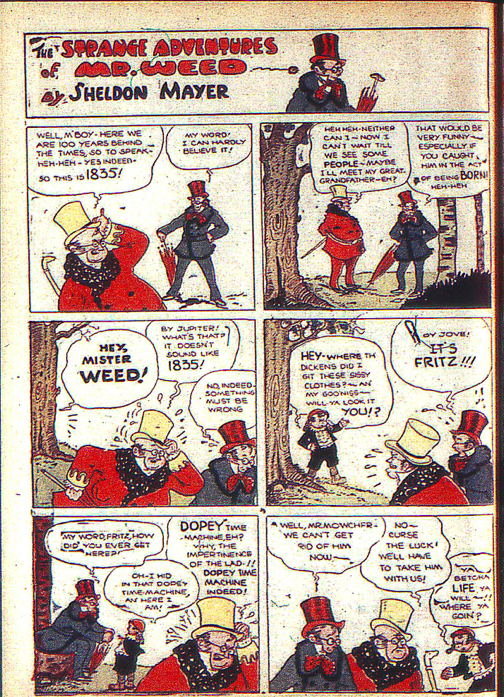 "The Vikings" and "Peter & Ho-lah-an," both in color, are also recurring stories drawn by Livingstone and "Liv" (Rolland H.). Livingstone is more of an illustrator but his artwork although detailed is not overly busy and looks great in color. It fits well with the classical story of the Vikings most likely from a script by MWN and in typical classical style the story is written at the bottom of each panel. "Peter & Ho-lah-an" is not your typical comic story. Two boys, one white and one Indian have befriended each other. In this episode, they practice archery hitting a farmer who chases them and knocks a basket of eggs out of a woman's hands.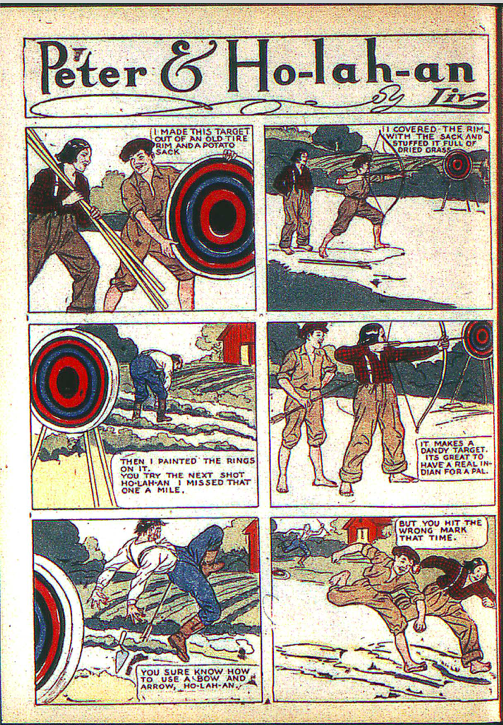 "Wing Walker" by the mysterious Thor is in black and white with 4 pages. The story is rather noir as noted in the post on New Comics #1. It's a little hard to follow but there seem to be two rival gangs who need Walker's expertise in flying a plane. There are also Seminole Indians deep in the swamps of Florida who have captured a woman. Wing is attempting to rescue her and get away from the gangs and the Indians. He's not having a great deal of luck. It's an odd choice to use the Seminole Indians as part of the story since the time period seems to be in the 1930's and there were only a small number of Seminoles left in Florida after the forced removal of native peoples east of the Mississippi into Oklahoma.
Who is the mysterious Thor who not only writes and illustrates "Wing Walker" but also took over "Famous Flights" from Al Whitney as "Thor's Famous Flights?" At the moment I'm leaning toward Henry Carl Kiefer since he writes and illustrates "Wing Brady," also featuring a main character who is adept at flying planes. The artwork seems similar. I haven't discovered any information about a background in flying for Kiefer. I'm still on the case.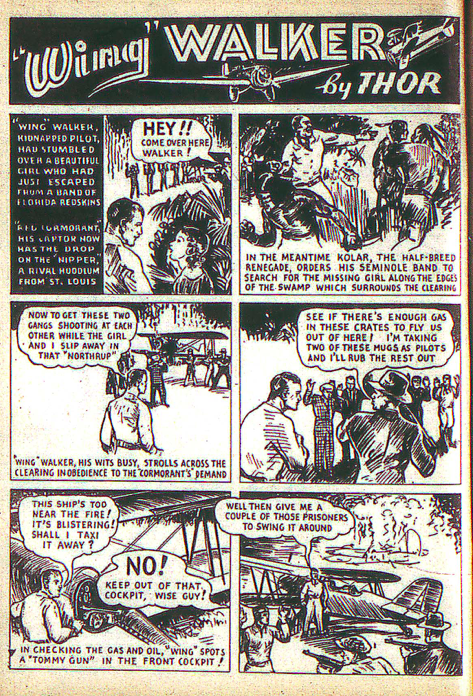 Kiefer and his wife Marie Aline De Kerosett under H.C. and A. D. Kiefer again contributed "Just Suppose" two pages in black and white. In this one they wonder what would have happened if Lincoln had not become President or if Napoleon had won at Waterloo. Indeed! The feature is similar to "Believe it or Not."
"Ray and Gail on the Trail of Life's Adventures" by Clemens Gretter over 4 pages in black and white continues the strange story of Ray and Gail. Perhaps it was normal during the Depression for people who have lost their livelihood to take up with a wealthy person wherever that might lead or perhaps it is the wishful thinking of so many during that time. Ray and Gail join their friend Bill on his father's yacht. Bill is inexplicably dressed as a sailor—cosplay? His Aunt Millie shows up angry about a map and is knocked down in the fracas and they carry her to her suite. Something sinister is going on but what is not clear yet.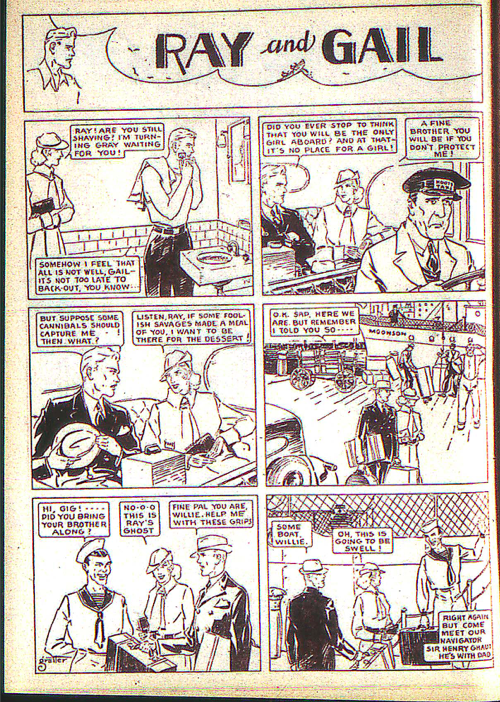 Jon Elby (Jon Blummer) illustrates the continuing story of "Captain Quick" in black and white from a script by MWN according to Jerry Bails. It is executed in classic style with the story at the bottom of the panel. A Spanish galleon is subdued, the gold is divided and Quick becomes Captain of the Bess.
Blummer was born Jacob Lupu Blumer in 1904. He most likely changed his name due to the unwanted notoriety of his father who founded the Blumer College of Naturopathy in Hartford, CT. The school was raided in 1923 as a result of an investigation of medical fraud. Jacob Blumer went to New York and used the pen name Jon Blummer, Jon Elby and Don Shelby. He attended Pratt Institute and began his career selling illustrations to pulp magazines such as Complete Western and Adventure. This is most likely the connection with the Major. Blummer's only contribution to the Major's comics was for "Captain Quick" in New Comics #1 and #2. "Captain Quick" wasn't continued as a comic. Blummer drew the syndicated newspaper strip "The Lone Ranger" and is most known for creating "Hop Harrigan" in 1939 for All American Comics #1. He went on to do other comics work for National/DC and created "Ultra-Man," "Captain X of the RAF" and "Little Boy Blue." Blummer died in 1955.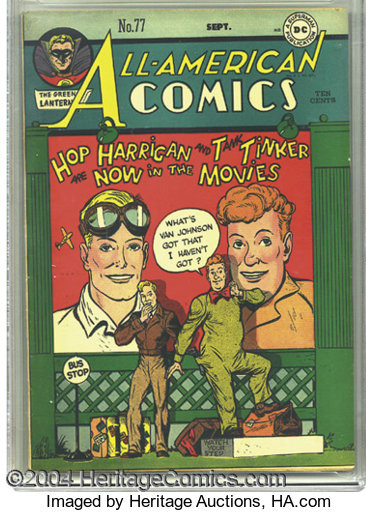 "17-20 on the Black" by Billy Weston and illustrated by Tom Cooper continues in black and white. The story is focused on a gambling escapade and involves a mysterious lady and pearls. The mysterious lady is robbed of the pearls that Jim Gale has given her for safekeeping. The Chinese servant speaks in pidgin English but fortunately his skin is not yellow since this is in black and white. Tom Cooper's shadowy artwork fits well with the story especially as the story is a little vague as well.
Al Stahl's continuing saga of the man who tries to grow his hair "Needles Uses His Noodle" is in color. It's well-drawn and the story is clear moving to the joke which is "hair raising."
In addition to illustrating "17-20 on the Black," Tom Cooper continues his eccentric comic Capt'n Spiniker. Capt'n Spiniker first appeared in New Fun #2, and again in New Fun #4, #5 and #6 as Cap'n Spinacker. In New Comics #1 he becomes Cap'n Spinniker and now he is Capt'n Spiniker. Why? I have no idea but I love this comic. The characters are drawn in a quirky style and the comic looks great in color. The story is off-beat as well. Spiniker with his sidekick Eskimo in his submarine continually annoys Captain Stern. In spite of Stern's damaging the submarine Spiniker attaches it to the ship. Stern discovers the subterfuge and brings the two onboard and claps them in irons. The Eskimo sidekick speaks in normal everyday English, thank goodness. Cooper also has a new comic appearing "Castaway Island" in color that's not as interesting as yet.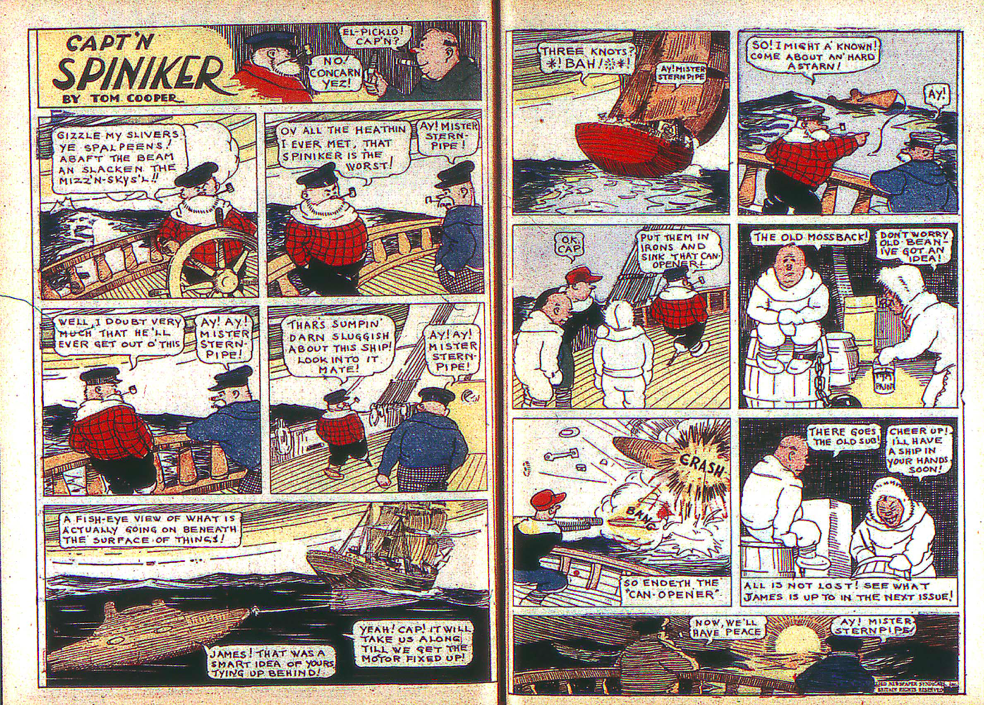 Five recurring characters from New Comics #1 return with new stories on 2 pages each. These stand-alone stories have a joke that is set up with the punchline often in the last panel. Vin Sullivan's "Jibby Jones" appears in color in a story with a seasonal story about turkeys. Jibby goes out to shoot a turkey but the turkey wins. Sullivan also has a new comic in this issue—"Beany," in color. Beany's dream world is reminiscent of Windsor McKay's "Little Nemo." We shall see where it goes.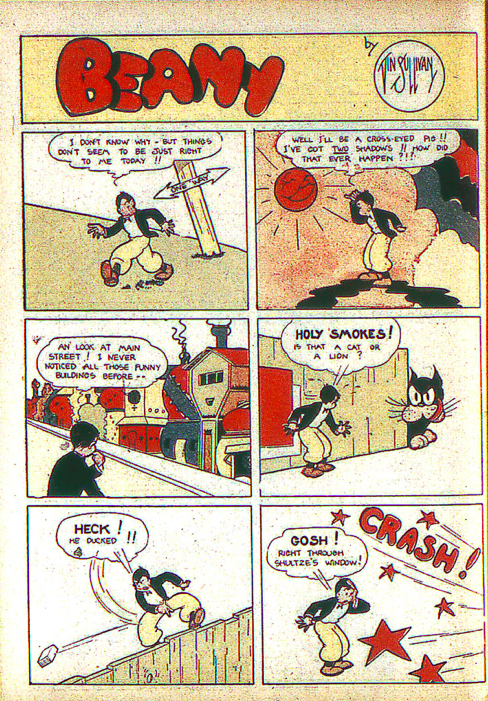 "Dickie Duck" Matt Curzon's character returns for another episode in color as does his "Freddie Bell He Means Well" also in color. These are simple well written stories and the artwork is solid. "The Pixie Puzzle Adventures," a recurring activity feature are reminiscent of Palmer Cox's The Brownies. I'm assuming you erudite readers are well aware, if not, check them out, they're wonderful.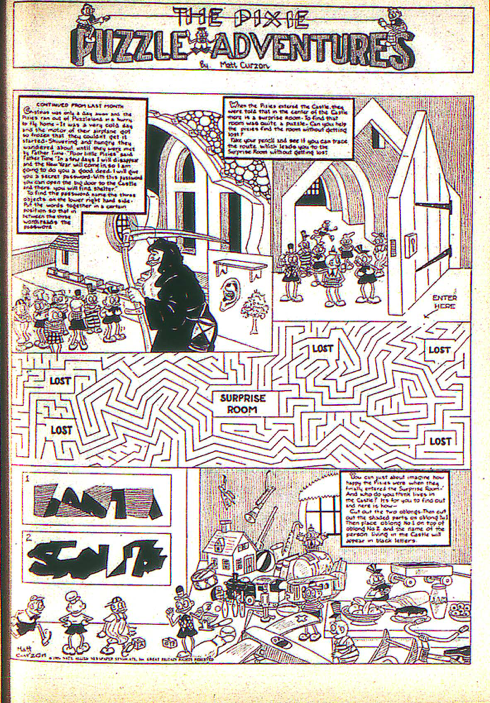 Whitney Ellsworth's continuing character "Billy the Kid" (in color) brags that he can beat up the local bully. When confronted he is surprised to find that indeed, he can beat up the bully. The artwork is solid and looks good in color but isn't all that distinctive nor are the stories. Ellsworth obviously found his calling with the Superman series.
"Chikko Chakko" by Ellis Edwards continues the misadventures of the main character. I'm on the fence with this comic as the character as drawn seems stereotyped of what I assume to be a Mexican guy. However, the character is somewhat unusual and interesting. He is portrayed as likeable and kind. He makes jokes at his own expense and doesn't take life too seriously. There are things that wouldn't pass muster today such as the two small naked children but the story is good and Chikko always makes out well in the end.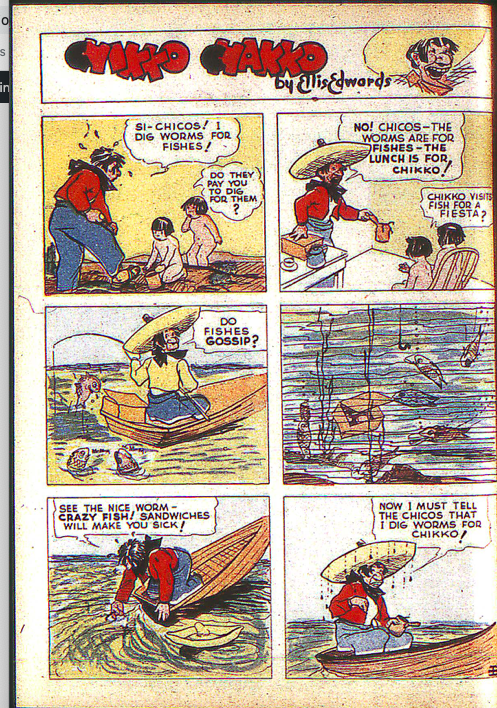 Walt Kelly's illustration of Gulliver's Travels has two full pages and is presented as illustrated by Walter C. Kelly. However, again his signature at the bottom is "Walt" Kelly. The two splash pages have highly detailed scenes in black and white with an intricate medieval type border in color. The border is rich in detail as well and typical of Kelly's humor. On one page in the bottom border we see two big feet encased in shoes and on the other two large hands. The digital copy I have is difficult to read so I'm not sure what the wording is at the top of the columns on each page.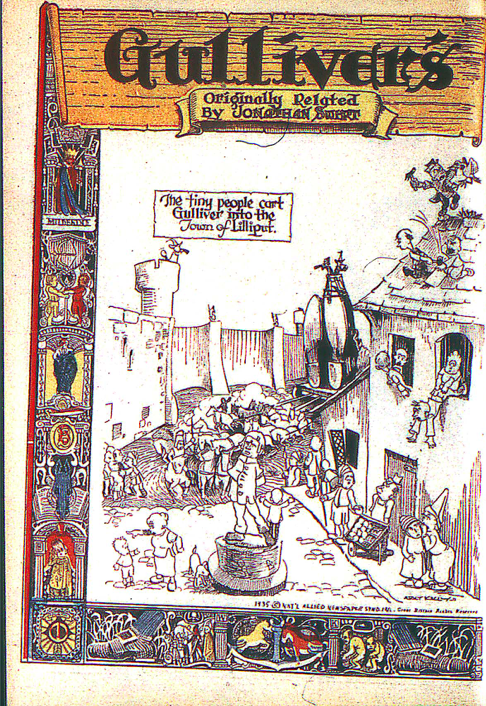 Several creators returned with new content including Emma McKean with an illustrated "Pastime Page" of activities for children in black and white.
Stan Randall created a new comic "Dare Devil Dunk" in color with the classic Depression era theme of needing to get money to pay for a meal. In this comic Dare Devil Dunk manages to make a man laugh for $200 by throwing a brick through the window and tickling him. After paying $150 for the window he has $50 left over for food. Randall's "Cartoon Corner" in black and white is a full page detailing how to draw heads.
Joe Archibald contributed a full page in black and white, "Live and Learn" similar to other features he contributed throughout the New Funs such as "Fun Fax." This was Archibald's last contribution to these magazines. He was one of the initial contributors to the Major's comics magazines beginning in New Fun #1 with his recurring feature on sports. In addition to his sports articles and comic "Scrub Hardy," he provided numerous insets and fillers for New Fun 1-6. That indicates he was more actively involved in the production of the magazines. It's not surprising that he didn't continue with the sports features as they don't quite fit with the way the magazines are headed. The Major and Archibald had a working relationship that went back 10 years as he contributed to the Major's early newspaper syndicate Wheeler-Nicholson, Inc. Newspaper Syndicate (1925-27) with "Lest We Forget The Old Time Stars" and "The Muscle Movie." Born in New Hampshire in 1898, Archibald had a long and prolific career as an illustrator and writer contributing 900 stories in 70 magazines. He sold his first cartoon at the age of 12 and by 1928 he was illustrating and writing for the pulps. In addition to the Major's comics magazines, he was also art director for Standard Comics and later in life focused on stories for young readers. Archibald died in 1986.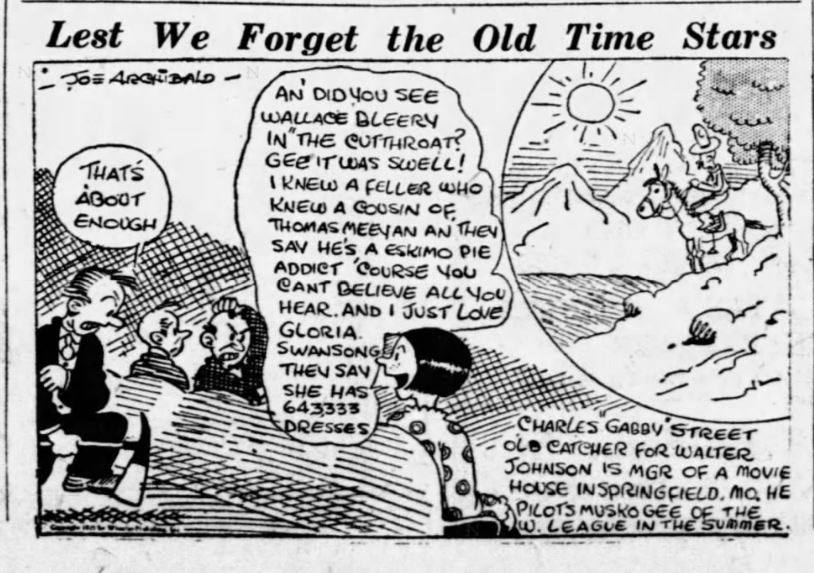 A new comic "Captain Bill of the Rangers" in black and white by W. M. (William Merle) Allison appeared for the first time. Allison, who was new to the Major's comics, was a well-established artist contributing illustrations to pulp magazines among other work. The black and white format works well with his finely detailed illustrative artwork. The story is fairly simple featuring two young kids, a niece and nephew who arrive at their Uncle Bob's ranch after witnessing a robbery on the train. They describe one of the "outlaws" to Captain Bill. In the last panel we see that the outlaw is working for a neighboring rancher.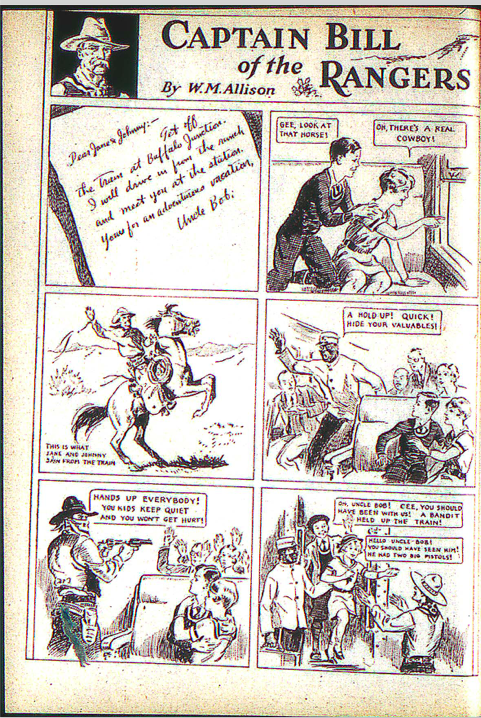 There are the usual recurring features—"The Radio Dialer" with a bio on Jolly Bill Steinke who frankly seems a little creepy to me but what do I know. There is a dreadful photograph of two people in blackface but nothing about them in the article. I'm guessing they had a radio program where they pretend to be Black?
The more interesting features are "Worthwhile Films to Watch For" with a photo and information about the young Buddy Ebsen that was new to me and "Stamps and Coins," which always has interesting historical items from the period. I have to struggle through "It's Magic by Andrini the Great" illustrated by Bill Cook, but I'm sure kids liked it or it wouldn't be included. "Hobbies" by Danny Ryan, in spite of the hype by "the Editor," I'm sorry to say, I find super boring.
There are two fiction features, one by Wallace Kirk "Big Linda's Revenge" a somewhat melodramatic story about a detective who is summoned to a murder case at a zoo. Spoiler alert—Big Linda, the elephant, triumphs. I've read a lot of pulps and this is not in the top echelon. I searched around the pulp sites and so far haven't been able to find Wallace Kirk as an author. My guess is that it is William Cook—WC—WK who also happens to be the illustrator as Bill Cook for the story.
Rosemary Volk, who appears for the first time in the Major's magazines has a short story with her illustrations, "The Test of a Man, A Short Story for Young Fellows." It promotes humility and respect for adults and is very much of the period. She takes over Constance Naar's "The Bookshelf" with two full pages and her own illustrations. Volk also writes/edits the reader participation "It's a Dern Lie" with R.G. Leffingwell's illustrations.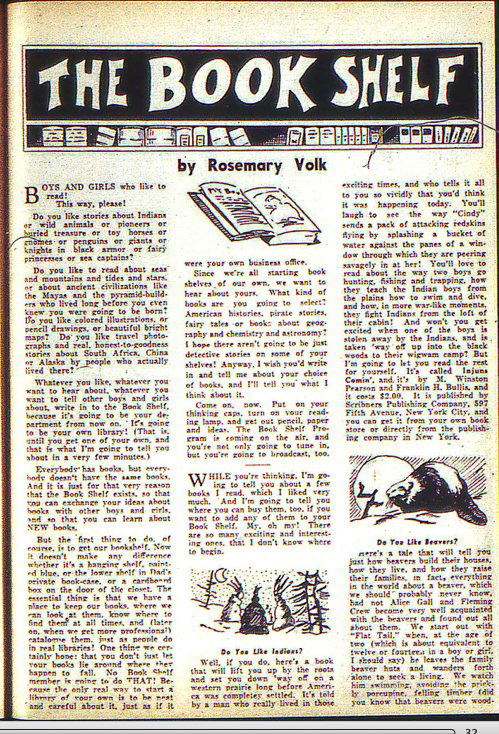 Finally, what you've all been waiting for—yes, it's "The Federal Men" by Siegel and Shuster! Federal Men was one of the Major's ideas that Siegel and Shuster executed. It was obviously a favorite as MWN planned a magazine entitled Federal Men and several of his pulp heroes were federal agents. Our hero Barry O'Neill becomes Federal Agent Neal Barry in the 1940 hardcover book Death Over London. In an October 4, 1935 letter to Jerry Siegel, MWN writes, "The new magazine, New Comics, is almost made up. We'd like you to prepare us some material for it. Our suggestion is that you do a four-page strip in the narrative line, calling it the Federal Men. This strip should be a fast moving radio patrol-automobile G-Man strip with plenty of excitement and adventure, with virtue triumphing as usual."
"The Federal Men" is the first time for Siegel and Shuster to have a comic in color and it's four-pages. The Major obviously believed in the two young creators. The story is tight and full of action. Steve Carson goes undercover at various police precincts and discovers the bullet that struck the bodyguard of the Mannings child who has been kidnapped. A woman is implicated–Kate Lane—note the name. Carson goes on a patrol with Watson and a call goes out to pick up Kate Lane. They go to the apartment and the police show up. Watson overtakes Carson and brings him to the hideaway. The child is sick and Carson persuades Lane that a murder rap is worse than kidnapping. Watson shoots Lane, Carson overwhelms him and the police arrive.
Shuster's artwork has skillfully developed in a very short period of time. His work has plenty of details, but it's not overly busy and in perfect sync with the story thus pulling you along. The action scenes are exciting and are often cinematic–practically 3-dimensional. Check out the car in the example below. Remind you of anything? What a shame that this early work is so little known by the fans.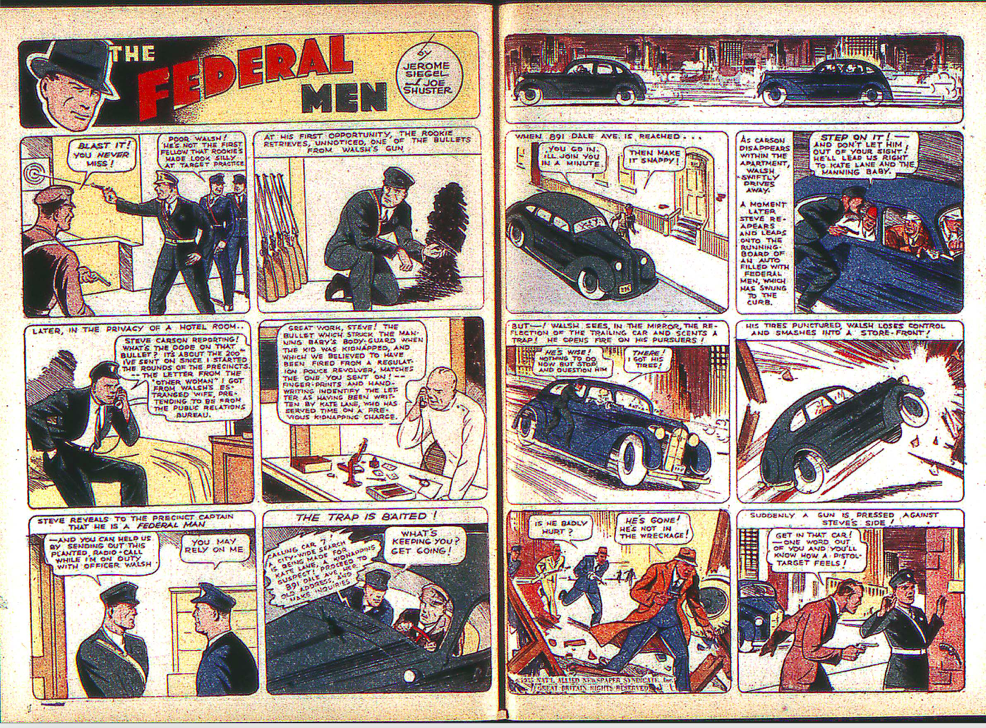 In toto this is a pretty good magazine even for today. It's exciting to see the magazines beginning to hit their stride with good stories and terrific artwork. On to More Fun #8!
Special thanks to: Tom Andrae, Jerry Bails, Robert Beerbohm, Bob Cherry, Mike DeLisa, the heroes at Grand Comics Database, Alex Jay, Lambiek Comiclopedia, David Saunders, Tim Stroup, Carol Tilley and Larry Tye.